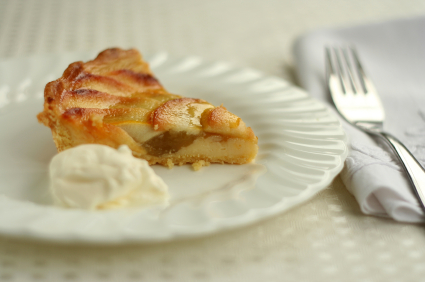 Image courtesy of ifood.tv
Upon request for Kelvyn (and for the express benefit of Pip), I hereby present one of my favourite incarnations of apple pie - the Dutch apple tart. It presents a topped presentation approach to the apple pie, which differs from the usual apple pie that we all know and love - but do not be fooled - this recipe is just as (if not more) delicious, and can be presented and devoured in similar ways. Its pretty cheap to produce, and if you can come accross free apples *cough* then its even better. I do however reccomend you try eating this dish with
cinnamon & cognac anglais
, or
butterscotch sauce
. Normal custard varieties will suffice as an accompaniment, but these sauces will maximise your pleasure.
Hope this serves you well Kelv & Pip. It's delicious.
Ingredients (makes a medium sized apple tart in a flan dish)
250g
sweet shortcrust pastry
(or a prebought flan dish)
1 tsp. cinnamon
4 cooking apples, peeled and sliced (or 6-8 eating apples)
shot of brandy
3 tbsp brown sugar
tbsp butter
Directions
Preheat oven to 180C
Roll out the sweet pastry and add to a greased flan dish. Blind bake the flan case and allow to cool and dry. Cut each apple in half vertically, then slice up the apples into even slies and layer on top of the flan case, overlapping as they go. You'll build a veritable mountain of apple slices, here - make sure they line the outside as evenly as the middle - the tip here is to work inwards. When all your apples are added, sprinkle with cinnamon , then put in the oven for about 20 mins, until apples begin to soften and colour. At this point leave the tart in the oven, and in a pan add the butter until metled then fold in the sugar until a uniform paste is reached. add the brandy and cook until alcohol has burned off (about 20 seconds). Pull out the tart and glaze with the sauce, then return to the oven for a further 10-15 mins until cooked. Pull out and allow to cool.
Portion and serve. If you need ot reheat each slice just sprinkle a littel sugar and a tsp of butter and return to oven until warm.