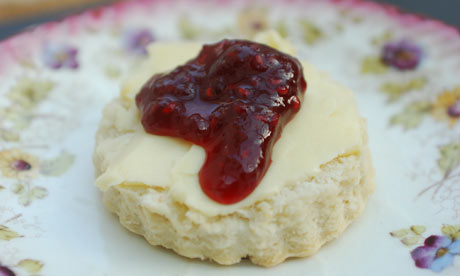 Image courtesy of The Guardian.
Scones are a wonderful accompaniment usually taken with afternoon tea, or elevenses. A British favourite scones are an umbrella term for a number of baked items, usually no bigger than a muffin or similar. Here is a standard recipe that never fails me, for regular scones. Feel free to add a handful of fruit, be it blueberries, chopped raspberries, cranberries, raisins, sultanas, currants. Adding the zest of half a lemon or orange will also give this recipe an uplifting beat.
Ingredients
225g/8oz self raising flour
pinch of salt
55g/2oz butter
25g/1oz caster sugar
150ml/5fl oz milk
1 free-range egg, beaten
The do-ing bit :)
Heat the oven to 220C/425F/Gas 7. Lightly grease a baking sheet.
Mix together the flour and salt and rub in the butter.
Stir in the sugar and then the milk to get a soft dough.
Turn on to a floured work surface and knead very lightly. Pat out to a round 2cm/¾in thick. Use a 5cm/2in cutter to stamp out rounds and place on a baking sheet. Lightly knead together the rest of the dough and stamp out more scones to use it all up.
Brush the tops of the scones with the beaten egg. Bake for 12-15 minutes until well risen and golden.