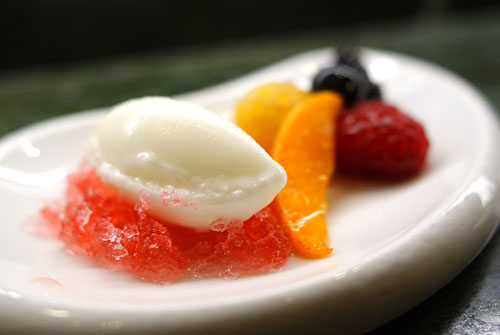 Image courtesy of kevineats.com
This is a refreshing alternative to ice cream, and can be used as a great medium or vehicle for a variety of flavours if youre wanting to make different flavoured sorbets. Its phenomenally easy and cheap to produce, and also tastes exceedingly good.
You will need (makes a batch of about 8 portions):
350ml water
225g caster sugar
3 tbsp liquid glucose
300ml natural yoghurt
100ml fromage frais
In a pan add the water, sugar and liquid glucose and palce over a low heat. Stir until the sugar has dissolved, then increase the heat and boil for 3 minutes. Remove from the heat and allow to cool completely.
Beat the yoghurt and fromage frais together in a bowl until smooth and creamy. Mix in the cooled syrup.
Pour into a shallow tray and freeze, removing from the freezer every hour and beat together with a whisk until returning to the freezer. When the mix freezes smooth, it is ready.
Enjoy!